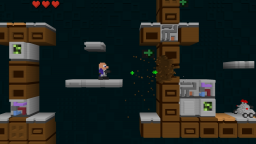 In this side-scrolling roguelike platformer-shooter you level up your character by literally going up to the next level. Each level-up allows you to select upgrades: more health, new weapons, perks, etc.
Also, it's made of voxels, so you can destroy walls and dig tunnels or trenches to hide from enemy fire, and blast holes in huge bosses to get to the vulnerable spots inside them.

This Steam Early Access game is currently not a finished game and may or may not change significantly over the course of development. To learn more about Steam Early Access, please visit http://store.steampowered.com/earlyaccessfaq/
Why Early Access?
The game is playable right now and quite fun, it just lacks content (needs more bosses, upgrades and worlds/zones). I think the development can benefit from the user input, especially considering the random rogue-like nature of the game.
Approximately how long will this game be in Early Access?
About a year.
How is the full version planned to differ from the Early Access version?
The full version will have:
More bosses, with larger and harder ones further in the game.
More upgrades, organized as a tree.
More worlds/zones with different graphics, layouts and hazards, changing each 4 levels.
Victory after defeating the final boss.
What is the current state of the Early Access version?
The game now has only one boss, one world/zone and few upgrades. It's also endless for now.
Will the game be priced differently during and after Early Access?
I'm going to increase the price a bit on release.
How are you planning on involving the Community in your development process?
I'm going to listen what people have to say about the difficulty, randomness and features of the game. I'm also interested in what people want from the game, considering features like local multi-player, seeding, modding and others.
Minimum system requirements:
System: Windows XP or newer, DirectX 9.0c
Graphics: card with shader model 2 support or better (most cards these days)
Processor: with SSE2 support (Pentium 4+, Athlon 64+)