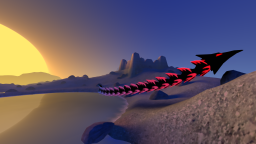 A game inspired by Magic Carpet, with modern graphics and features, to name some:
simulated water and lava
swarms of creatures
generated worlds
The game is in alpha stage now, so the price is low. It'll go up as the game is developed. Buy now to support development, and you'll get free updates up to and including the release version.
You play as a sorcerer, exploring mysterious worlds, changing them, discovering ancient secrets, creating new spells, fighting creatures and other mages, building and destroying as you please.
Minimum system requirements:
System: Windows XP or newer, DirectX 9.0c
Graphics: shaders 3.0 or better (NVidia 6600+, ATI X1300+)
Processor: with SSE2 support (Pentium 4+, Athlon 64+)
Currently the demo has less spells and a tiny universe.